Gatwick Airport
Transfer
Our reliable Gatwick Airport transfer can be pre booked in advance for peace of mind from Gatwick Airport to London or going from London to Gatwick Airport. "For your peace of mind you can pre book a Gatwick taxi in advance and have the driver waiting for you inside the airport at the meeting point after the agreed waiting time." Our small team of knowledgeable individuals will advise you which vehicle from our large fleet is most suitable for your needs and also answer any other questions. All our drivers are DBS cleared, We are proud to mention we are four stars graded by PHCA and we are licensed by Transport For London.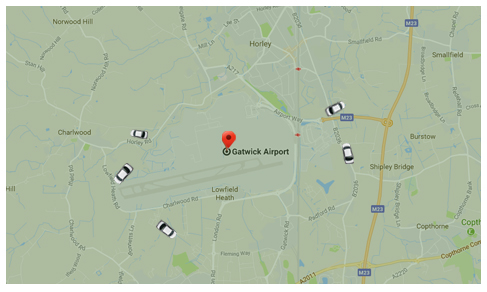 Book Now Call Us Get Quotation
Travelling can be stressful so the last thing you want to do after long flight is to be dragging your luggage through the train station or trying to wait and look for an available driver outside the already crowded airport. We offer a free meet and greet service for all Gatwick Airport collections, so whether you are booking for yourself or friends and family that are travelling with no UK mobile number then look no further than London Radio Cars. Find your competitive Gatwick Airport transfer quote online now within one minute.
You can get your instant quote for your Gatwick Airport Transfer service within 30 seconds by Clicking Here. Once you have entered your pick up and destination you will be able to see our competitive prices for our Gatwick Airport Transfer service for all the different high quality vehicles we offer. Our fleet includes Estate, MPV, and even a Large MPV for those large family trips! Need a more premium service? Then you can even book our Executive Airport Transfer service to get to Gatwick in style.

Licensed By PHCA
We are licensed by Private hire car association

Flight Tracking
Whether you are landing early or late, we track the flight to make sure you are picked up on time.

Meet & Greet
Our driver will meet you accordingly after landing at the specified meeting point.
What can you expect from our reliable Gatwick Airport Transfer service?
Whether you make your booking online or by calling us, you will always get an immediate booking confirmation message sent through SMS. All our Minicabs in Gatwick will cost substantially cheaper than hailing a taxi to Gatwick airport. "Book our Gatwick cabs from Central London to Gatwick Airport and you can save at least £20 compared to using a black cab service." You wouldn't have to keep your eye on the meter either as all our prices are fixed regardless of the route or time the journey takes. When your driver is on the way to collect you will get another SMS with his details and an option to track his live location. The driver will have your contact number and will call you once he reaches the airport. London Radio Cars will always track your flight for any delays, so the driver will meet you accordingly at the agreed time after landing you requested
Where can I meet my driver at Gatwick Airport?
The meeting point for Gatwick Airport is Costa Coffee in the arrivals. This is the same meeting point for both terminals however see below for their exact location.
Our Meet and Greet service from Gatwick Airport is included free of cost and has any parking charges up to £5 covered.
Gatwick Airport North
Costa Coffee (On the left as you come out of domestic arrivals - Behind the exit for internationals arrivals. This is opposite WHSmith).
Gatwick Airport South
Costa Coffee (Opposite the international baggage reclaim hall on the right hand side).
Our Meet and Greet service from Gatwick Airport is included free of cost and has any parking charges up to £5 covered. This service is great especially if you are booking your Gatwick Airport service for a guest or friend who is travelling into Gatwick for the first time. The driver will even be waiting with a sign board with the name of the passenger!
London Radio Cars has made it even easier for you to book our reliable Gatwick Airport Transfer service through our official iPhone and Android app. You can download it and book your ride within thirty seconds. To speed things up you can even link you card, save your favourite locations and yes you can still apply voucher codes!
If you are booking your Gatwick Airport transfer for your guest, businesses associates or have any other queries do not hesitate to call our 24 Hour control room on +44 208 204 4444 and a member of our team will gladly assist you. Alternatively you can email us at bookings@londonradiocars.com or use our 24 Hour live chat facility at the bottom of our website for an instant response.